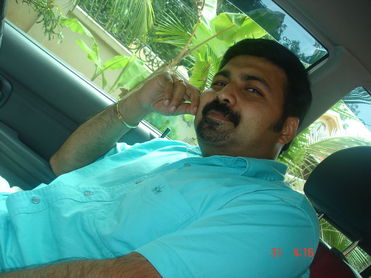 Welcome to Lal's Home Page!
Born on 11th September, A great day for my mom and dad, as I was the first son for them & last too. I was named Lal. But everyone called me 'Mon' as i was the only son. As I begin to grow, people started calling me the same, was fine at that time, but now feels embarrassed when elder people calls me by that name. When I was a child I loved to eat and play as usual kids, I loved studies since childhood, especially Math's, the subject i like most even now. I am not sure why I joined Engineering, probably coz of taste in maths or coz I love computers or coz my parents wanted me to.I do think about that sometimes, but no solution yet.
My ChildHood
My Schooling
My childhood was great, like other kids i was silent at home, and naughty at class. Whenever they got time, teachers scolded. As i told you, my home town is Pathanamthitta (www.pathanamthitta.com), Kerala, India. So i studied at Seventh Day Adventist English Medium High School at Pathanmthitta district, till 2nd Standard. After that i got opportunity to study at Kottayam district. So i joined at School of Our Lady, Changanacherry, as my parents went to Abu Dhabi, UAE. I lived there with my moms parents & with my uncles, i enjoyed well, as i was a day scholar at school. i cant forget that days, how i was going to school & all other stuffs. It was very very nice & i enjoyed a lot. i studied there till 4th grade as that was the last grade there so i moved to Sacred Heart English Medium School, run by Catholics....I had many friends from that school which still i have good contacts with even now. A good school, i studied there till eighth standard, but not completed, as my mom came from Abu Dhabi.
My days @ Pathanamthitta
I was transferred again back to Pathanamthitta, Catholicate High School on to 8th Standard. After stepping into this school, my bad day begin (but of course it was very much good for me in my personal life, other than studies), a lot of homework from teachers, after coming to home, go for tuition classes, & when come back mom taught me at home.. And at the same time I used to get lot of hits and firing from her as I was not clever enough to grasp what she said, except maths.Some how I managed to cover the subjects. At that time, I hated studies (but now i love it), coz i had some other stuffs in mind as usual for a teenager. As usual I was gifted with lots of firing and hits from my teachers and mom, thank god my dad was working at Abu Dhabi else i need to suffer from him too.. But my mom loved me a lot, even if I failed to do solve the problems given by her. And on my eighth standard that stuck into my mind, which has been experienced by the whole world. Now also i can't forget that moment. I think it was the beautiful moment i had in my life, i can say. And i know Nobody can ever forget something like that in their life as it was the serious thing happened. Anyway I can't explain that now... I will certainly put my whole life story soon... first i need to scribble that...
Company Profile
In 2000, I started a software company, involved mainly in Software Development. Other services are networking supports, hardware supports etc.Just browse to see new products of my Software Company, Laltees Software Solutions ( www.laltees.com )
Personal Comments..
, laltj@sify.com,
laltj@go.com, laltj@canada.com,
laltjohn@hotmail.com, laltj@graffiti.net,
laltj@india.com, laltj@aol.com,
laltj@netscape.net, jthekkemuriyil@dlink.ca,
laltjohn@malayalamanorama.com,
Etc...
Engineering Memberships

Member of Professional Engineers of Ontario (PEO)
Associate member of Institution of Engineers (I)
Associate Member of International Oracle Users Group (IOUG)
mail me
Home: 1-416-456-7780

#209, 25 Jansusie Rd, Etobicoke, ON. M9W 4V4.
A Quote: "I do not feel obliged to believe that the same God who has endowed us with sense, reason, and intellect has intended us to forgo their use." - Galileo Galilei

An Indian
Please do comment about this website, please email me your valuable comments..
Email Me